Want to prepare for your written DMV test?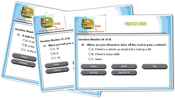 Before you go to your local DMV to take your written permit test, increase your chances of passing by taking our sample written tests.

When you sign up for our online drivers education course, you gain access to our one of a kind DMV practice written test generator that pulls sample test questions from a pool of over 200 written test questions. Take as many practice written tests as you'd like, no two sample tests will ever be the same. Each sample test you take will be graded for you and you can always review your practice test answers to see which ones you got incorrect.

When you're ready to go to the DMV and take the actual permit test, be sure to also review the California Driver Handbook in its entirety. The CA handbook contains loads of information and contains the answers to every test that will appear on he actual written permit test.



Our DMV sample written test generator is powered by Drivers Ed Direct at DriversEdDirect.com!

Tips for Taking Your Written Driver Test
1) Read the test very questions carefully. Be sure to watch out for words like 'NOT' and 'EXCEPT' when reading the question.
2) According to the DMV website, you should not read anything extra into the test question. There will only be one correct answer for each question and any other possible answers will blatantly wrong or not applicable for the test question asked.
3) Each test question on the written test is taken directly from the CA driver handbook. If you study the handbook in its entirety, you will have an even better chance of passing the DMV written test.
4) Last but not least, don't be nervous on your test day. The DMV actually wants you to pass your test. So take your time, be sure to double check your answers and have fun!
So What Are You Waiting For?
Be on your way to getting your CA learner's permit and your CA drivers license with our California practice DMV test generator! Register today for your no obligation free trial of our course and when you decide that our online drivers ed course is for you, you'll get access to our unlimited supply of practice tests designed to better prepare you for your DMV test.