MEET YOUR DRIVER TRAINING REQUIREMENTS FOR THE STATE OF CA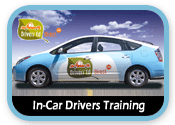 Online Drivers Education has teamed up with Drivers Ed Direct, the leading driving school in Los Angeles county, to assist you in meeting your State of CA Teen Driver Training requirement! Each in car driving lesson is taught by a friendly and licensed driving instructor who can teach driving skills in different environments, including freeway driving, canyon driving, and defensive driving. Both beginner and more advanced courses are offered for anyone over 15 years old in Los Angeles, Beverly Hills, Burbank, Studio City, Sherman Oaks Santa Monica, Westwood, the San Fernando Valley, the Santa Clarita Valley, the Conejo Valley and the West LA!

CALIFORNIA TEENAGERS AGREE - OUR DRIVING SCHOOL IS THE BEST: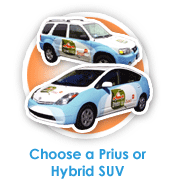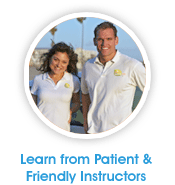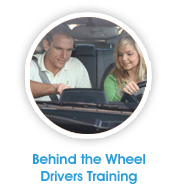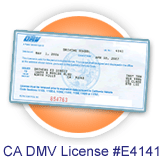 ONLY SELECT A DRIVING SCHOOL LICENSED BY THE DMV
There are a lot of driving schools throughout California that will try to earn your business, but beware that only a select group of driving schools are licensed by the California DMV.

With Online Drivers Education, you get the comfort of knowing your driving classes are provided by Drivers Ed Direct: a licensed, top rate CA driving school for California!
Driver Training Lessons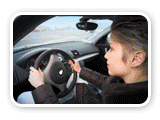 2 Hr Level 1 Lesson • Level 1 is designed for even the most inexperienced driver, to teach someone to drive who has never operated a motor vehicle before. For the most part, level 1 is taught in a residential neighborhood and focuses on the following areas of driving:
Pre-drive safety inspection
Explanation of the different controls and gauges within the car
Working accelerating, braking, and steering
Performing left-hand turns and right-hand turns
Keeping a safe lane position with respect to other cars, trucks, and obstacles
Making proactive traffic checks and using mirrors
Performing curbside parking, backing, driveway maneuvers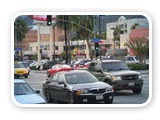 2 Hr Level 2 Lesson • Level 2 starts with a review of the previous level's concepts to make sure the basics are mastered before moving into more congested, busy driving situations. The majority of level 2 is spent out on public surface streets with a focus on refining:
Left and right turns at major intersections
Performing safe lane changes
Obeying speed rules, vehicle space cushions, and performing traffic checks
Parking lot driving safety
Parallel parking between cars
Making legal U-turns in traffic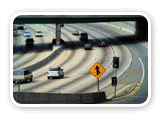 2 Hr Level 3 Lesson • Level 3 begins with a warm-up, including a review of lessons learned during both levels 1 and 2. This warm up is followed by a simulated DMV drivers test, focusing on correcting any areas judged by the DMV test examiners, including:
Explanation of auto fails and CDE's (critical driving errors)
Overview of test expectations and layout
Discussion of pre-drive test questions
Taking a graded simulated test near your local DMV
To end level 3, an introduction to the freeway is done. This includes explaining freeway basics, merging onto the freeway, and maneuvering on the freeway for a short while.

Additional Driving Lessons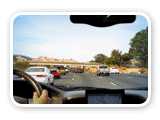 2 Hr Level 4 Freeway Lesson • Level 4 lets our students get more practice driving on California's complex freeway system. During this advanced freeway lesson, new driving concepts are explained and practiced, with a emphasis on:
Making safe lane changes at freeway speeds
Merging onto the freeway properly
Defensive driver strategies and obstacle avoidance
Making interchanges between major freeways
Operating the cruise control device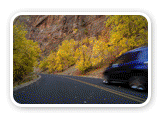 2 Hr Level 5 Canyon Driving Lesson • Level 5 focuses mainly on driving both busy and rural canyon roads. Also, level 5 also involves discussing evasive maneuvers from a defensive driving standpoint. Topics covered include:
Handling winding roads with heavy traffic
How to navigate small, sharp curves on rural canyon streets
Defensive driving and hazard avoidance
Recovery maneuvers for tire blowouts, hydroplaning, icy roads, and spin-outs.
Extra Driving Lessons


DMV Test Preparation
Let us call the DMV and take care of scheduling your test appointment. Then we'll pick you up at your home, spend a little time warming you up with some practice, and finally take you to the DMV where you take the DMV drive test in our car. After you earn your license we'll drop you back at home!
DMV Refresher Course
This lesson is designed for one thing: help you pass your Department of Motor Vehicles driving test. Practice on roads similar to DMV test area roads, discuss driving tasks that will be graded by the DMV, and work on those driving areas. From pre-drive DMV test questions, simulating DMV tests, and discussing the auto failures, this lesson has everything you need to get ready for DMV!
2-Hr Behind the Wheel Lesson
Purchase driving lessons one at a time, or add more lessons to a previously purchased behind-the-wheel package. Need to work on your driving skills on residential or city streets? Or maybe you want to become more accustomed to driving at night. Our individual driving lessons help you improve where you need it most!

* Our patient and experienced instructors are committed to developing your driving skills at a pace that is both comfortable and challenging. Instructors will use their discretion and assess your driving skills before training in advanced environments such as city streets, freeways, or canyons. We will not teach you in any setting thought to be unsafe given your current driving ability.
Driving Areas Serviced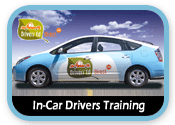 Using Google, MSN or Yahoo to search for a great driving school in your area? Chances are Online Drivers Education can offer the best professional driving school services for you and your teen. Looking for West Hills drivers training or a North Hills driving school? Not a problem, we service your area, along with Chatsworth, Northridge, and Van Nuys. Live in the San Fernando Valley? Great! We've got you covered, as well as the Conejo Valley. And we also offer behind the wheel services in Valencia, Santa Clarita, and Castaic? In fact, if you live in Los Angeles or Ventura county, there's a good chance we can offer you the best driving school instruction you can find.